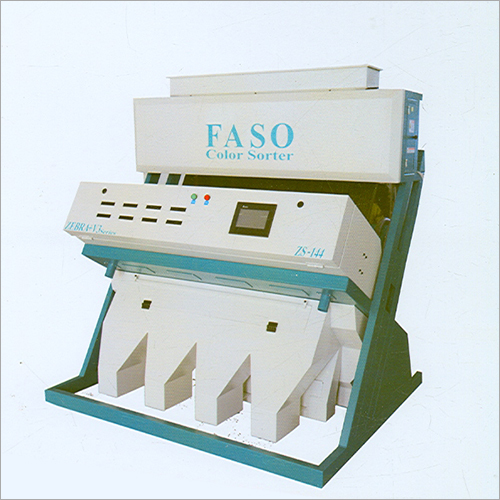 Channa Dal Color Sorter Machine
Product Code : Zebra + V3 Series Fa
Product Description
Zebra + V3 Series Faso Color Sorter
Model

Channels

Size LxWxH

Capacity (Tons/Hour)

Power Consumption (Kw)

Air Consumption
(hp)

Operating Voltage (Volts)

Primary

Resort 1

Resort 2

PS 72

36

18

18

1750x1350x1740

0.3 to 0.8

2 kw

10 hp

230Vac,
50-60 Hz

PS 90

54

18

18

1750x1350x1740

0.5 to 1.0

3 kw

15 hp

230Vac,
50-60 Hz

PS 108

72

18

18

1750x1350x1740

0.8 to 1.2

4 kw

20 hp

230Vac,
50-60 Hz

PS 126

72

36

18

1750x1350x1740

1.0 to 2.0

4 kw

20 hp

230Vac,
50-60 Hz

PS 144

90

36

18

1750x1350x1740

1.5 to 2.5

4 kw

25 hp

230Vac,
50-60 Hz
2048 pixel Ultra High Resolution line scan cameras can detect defects down to 0.14mm size.
1ms of high speed ejectors can eject up to 1000 times per second which maximize the production capacity and reduce good mix up in reject material.
High performance FPGA and DSP gives the extremely reliable hardware architecture.
Intelligent image processing algorithm enhances the sorting efficiency.
15" Ultra high resolution color touch screen with user friendly GUI makes the user interface simple.
Computer based system monitoring gives consistent sorting even during variations in external parameters like lighting.
Contact Us
1/135, B.S. Nagar, Near RVS Kumaran Kottam,Trichy Main Road, Sulur, Coimbatore, Tamil Nadu, 641402, India
Phone :91-422-2680500