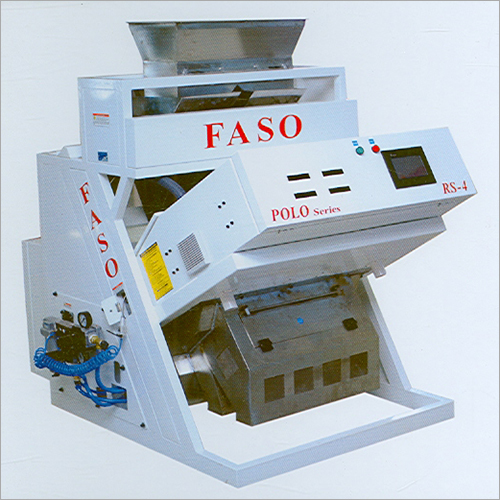 Green Dal Color Sorter Machine
Product Code : Polo Series Faso
Price And Quantity
Unit of Measure

:

,
Product Description
Polo Series Faso Color Sorter Machine
Feature
2048 pixel ultra high resolution line scan camera
High reliable mechanical structure with new design
Intelligent image processing algorithm
High speed ejectors of 1000 hz per second
Image processor FPGA
Simple operation user interface
Technologies
2048 pixel ultra high resolution line scan camera
Ppugos launches its ultra resolution 2048 PIXEL – line scan camera for excellent performance in sorting different materials like green, gold, red and black raisins. The exceptional number of pixel count helps in capturing minute of the defects and excellent output quality.
Image Processing Algorithm
Our contour based centering algorithm helps to reduce the rejection of good material along with bad material.
Image Processor -FPGA
High end software requires powerful processors. Our cutting edge high speed and highly powerful FPGA's helps in handling the huge image data for very high speed image processing and higher output.
Mechanial system
Optimized mechanical design with anodized chute anlong with our large area distributed flow hopper and vibrator design ensures there is no choking of material and maintains uniform flow for exceptional quality and higher output.
Ejectors
1 mesce high speed ejectors with 5 billion cycle life time provides exceptional valve life and reliable operation.
Software
Our centralized software system handles all key functionalities of the machine including automaric wiper handling, product configuration setup files, automatic valve testing support etc.
No of chutes

2C

4C

6C

8C

Segmentation

2+0

4+0

4+2

4+4

Size dimensions (LxWxH)

1060x1730x1763

1360x1730x1763

1660x1730x1763

1960x1730x1763

Power consumption

3 kva

5 kva

5 kva

5 kva

Air requirement

5 hp/ 25 cgm

10 hp/ 45 cgm

15 hp/ 60 cgm

20 hp/ 75 cgm

Power requirement

230V 50-60hz

Capacity (tons/hr)

1000 kgs/ hr

2000 kgs/ hr

3000 kgs/ hr

4000 kgs/ hr

Ejectors

1 msec ejectors
Contact Us
1/135, B.S. Nagar, Near RVS Kumaran Kottam,Trichy Main Road, Sulur, Coimbatore, Tamil Nadu, 641402, India
Phone :91-422-2680500