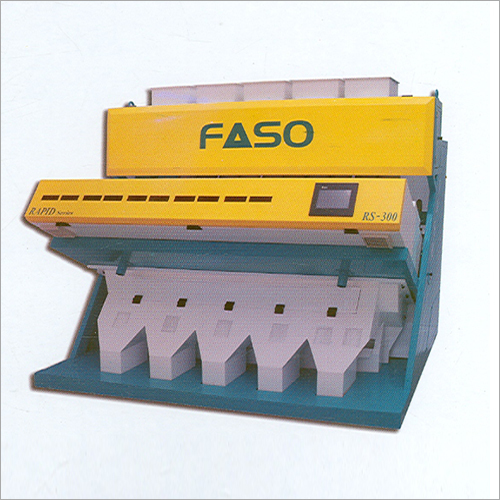 Pepper Sorting Machine
Product Code : Rapid Series Faso
Product Description
Rapid Series Faso Sorting Machine
Technology
Advanced Camera: Using 2048 pixel ultra high resolution line scan CCD cameras that detect defects down to 0.14mm size. Advanced sensing methods to recognize multi coloerd objects under the all new innovative optics and lighting system.
Intelligent Image Processing Technology: Advanced and accurate product contour tracking algorithm implemented using the industry proven level-set segmentation algorithm. Smart ejection focusing algorithm that yields better rejection ratio.
FPGA AND DSP: High performance FPGA and DSP provide extremely reliable hardware architechture. Completely indigenously develop hardware platform with industry proven. Technology for better reliability and durability.
High speed Ejectors: Using ultra high speed imported ejectors of frequency 1000 Hz to maximize the production capacity and to reduce mix up to good material in rejection.
Simple operation User Interface: 7" Ultra resolution color touch screen (HMI) for ease of use with user friendly software. Simple operation and the machine operation that is easy to learn and use.
High reliability Mechanical Structure: The mechanical structure is designed for reliability and stability. The electrical and optical system is designed for simplicity and efficiency. The optimized system structure reduces the complexity of the machine.
RAPID Series Features
2048 pixel ultra high resolution line scan cameras
Double side viewing technology
Image Mapping and defect selection system
7" HMI touch screen
Fully Computerised system
Auto Focusing and Configuring system
Imported 1000hz high speed ejectors Automatic cleaning of viewing area by wiper
Easy trouble shooting and online support
User Friendly Interface with product options.
Specification
Model

Channels configuration

Size dimension (LxWxH) in mm

Capacity *(tons per hour)

Power consumption

Air consumption

Operating voltage

Primary

Resort 1

Resort 2

RS 240

150

60

30

1750x1726x1706

2.4 to 3.0

5 kva

25 hp/ 90 cfm

230 V/ 50-60 hz

RS 300

180

90

30

2411x1726x1706

3.0 to 3.6

5 kva

30 hp/ 116 cfm

230 V/ 50-60 hz

RS 360

210

90

60

2761x1726x1706

3.6 to 4.2

7.5 kva

30 hp/ 144 cfm

230 V/ 50-60 hz

RS 420

240

120

60

3111x1726x1706

4.2 to 4.8

7.5 kva

40 hp/ 162 cfm

230 V/ 50-60 hz

RS 480

270

150

60

3461x1726x1706

4.8 to 6.0

10 kva

40 hp/ 180 cfm

230 V/ 50-60 hz
Contact Us
1/135, B.S. Nagar, Near RVS Kumaran Kottam,Trichy Main Road, Sulur, Coimbatore, Tamil Nadu, 641402, India
Phone :91-422-2680500